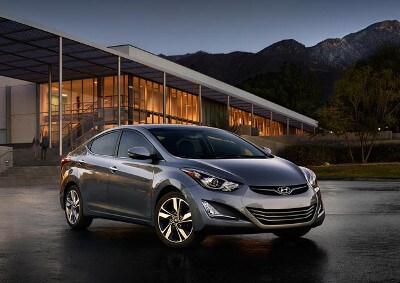 Are you a driver in the Chambersburg, PA or Winchester, VA area who is trying to decide between the 2015 Hyundai Elantra vs. the 2015 Mazda3? If so, you're going to want to read this special report that we have compiled. We're going to compare and contrast the 2015 Elantra with the 2015 Mazda3 to give you a good understanding of each of these new sedans so you can choose the one that is right for your automotive needs.
The 2015 Hyundai Elantra
If you're in the market for a sedan that is compact in form but really loads on the standard features - all while being incredibly affordable - then you're definitely going to want to consider the 2015 Hyundai Elantra. The new Elantra sports plenty of legroom, a quiet interior, and abundant standard features like cruise control, three free months of satellite radio, and more. In addition, the Elantra's small-but-speedy 1.8 L inline four-cylinder engine can pump out 145 hp and 130 lb-ft of torque with an outstanding fuel economy of 28 mpg in the city and 38 mpg on the highway.
The 2015 Mazda3
Drivers in Chambersburg, PA and Winchester, VA will find that the Mazda3 lacks many of the features of the Elantra. Of course, the Mazda3 is not without its merits: It's a very safe sedan with plenty of available features. Nonetheless, you'll be getting more value for your money by investing in a new 2015 Elantra.
Picking the Right Sedan for You
Ultimately, the choice is yours. However, we highly recommend the 2015 Elantra for its ability to punch well above its weight. At that low of a price point, you're simply not going to find another vehicle on the road today that can match it feature-for-feature. For a great vehicle that is exceedingly safe, affordable, and loaded with outstanding features, check out the new 2015 Hyundai Elantra today at our Hagerstown, MD dealership.
Test Drive the Elantra Today at Massey Hyundai!
For a quality sedan that really packs a punch, we highly recommend the 2015 Elantra. To get your hands on the wheel of this outstanding new sedan, come see us today at Massey Hyundai and we'll put you in the driver's seat of your very own 2015 Hyundai Elantra. We're proud to serve drivers in Winchester, VA, Chambersburg, PA, and the surrounding communities, and we hope to see you soon!