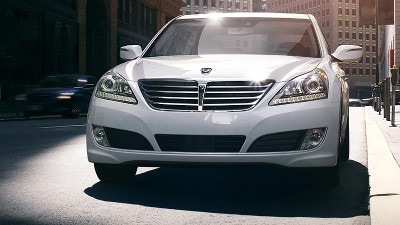 Chambersburg, PA and Winchester, VA drivers who are looking for a a high-end vehicle packed with cutting-edge features have some intriguing options. For a plethora of luxury features and optimal power, the 2015 Hyundai Equus, available now at Massey Hyundai, is the ideal option. To illustrate just how great the 2015 Equus truly is, we've decided to compare it to the 2015 Lexus LS.
Affordable Luxury
We all know that luxury vehicles can get pricey. Fortunately, the 2015 Equus is one of the more affordable high-end sedans on the market. While the base 2015 Lexus LS starts at $72,520, the base 2015 Hyundai Equus starts at $61,500. By deciding on the Equus, you'll still enjoy optimal luxury and save over $11,000.
Maintenance is Not a Concern
When you opt for the 2015 Hyundai Equus, you'll enjoy the peace of mind that comes with the personal Concierge Service. With this unique service that is not offered on the  2015 Lexus LS, caring for your vehicle is a breeze.
Equus owners will reap the benefits of having the service center coming to them for their vehicle's regularly scheduled vehicle service and maintenance for the first three years/36,000 miles. Believe it or not, all of these services are complimentary to every 2015 Equus owner.
Top-Notch Power and Performance
While both models are equipped with strong engines, the 2015 Equus offers better power and performance than the 2015 LS. The Equus comes standard with a 5.0L V8 engine that can produce an astounding 429 hp and 376 Ib-ft of torque. The LS, however, comes standard with a 4.6L V8 that can only generate 386 hp and 367 Ib-ft of torque.
Explore the 2015 Hyundai Equus Near Chambersburg, PA
These are just some of the benefits of the Equus. To see the 2015 Hyundai Equus in action, visit Massey Hyundai and take one for a test drive. We're excited for our Chambersburg, PA and Winchester, VA customers to get behind one of the best luxury sedans out there.