The 2015 Hyundai Genesis vs. the 2015 Audi A6: Which Luxury Sedan is Right for You?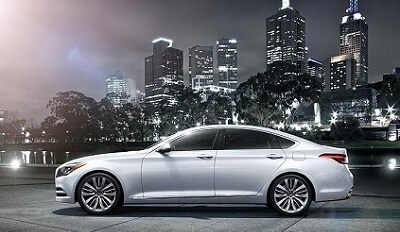 With the release of the 2015 Hyundai Genesis and the 2015 Audi A6, drivers in the Chambersburg, PA and Winchester, VA areas are wondering which of these new luxury sedans is the right vehicle for their budgetary and automotive needs. They are both luxury sedans, to be sure, but they diverge at a few critical points. Ultimately, we believe you will be best served by the 2015 Hyundai Genesis for a number of important reasons, including in the performance, comfort, and affordability departments. Let's have a look at some of those reasons now, and see just why you should invest in your very own 2015 Hyundai Genesis today.
The 2015 Hyundai Genesis
Unlike other luxury sedans on the market, the 2015 Hyundai Genesis gives you all the creature comforts and power you could ask for with a price tag that won't give you any sticker shock. The Genesis was designed from the ground up by Hyundai engineers to be a superb luxury vehicle for which you won't have to empty your wallet. With its smooth ride, comfortable and luxurious interior, excellent safety, and comprehensive warranty, the 2015 Genesis is a great choice for Chambersburg and Winchester shoppers who are looking to impress on a budget. Give it a test drive at Massey Hyundai today!
The 2015 Audi A6
Let's be honest: Everyone knows Audi makes luxury cars. It's what they are known for. But in this case, the Audi A6 just doesn't stack up to the Hyundai Genesis. In addition to spending a lot more of your hard-earned money on the new A6, you are also not getting nearly as many standard features as you would have gotten with a 2015 Genesis. Furthermore, the A6 has a very uncomfortable ride, less-than-stellar steering, and a front seat that is designed to be a "jack of all trades" but a master of none. In other words, it feels like the A6 just didn't try very hard to impress anyone at all. We do not recommend it for our Chambersburg and Winchester customers, but we do recommend having a closer look at the 2015 Hyundai Genesis instead.
Visit Massey Hyundai Today!
We can't recommend the 2015 Hyundai Genesis enough, and while we might be a little biased (being a Hyundai dealership and all), we guarantee it's worth your time to take it for a test drive. After all, the new Genesis is sporty, fast, and luxurious, and all at a price point that cannot be beaten by the competition. Let's put you in the driver's seat of your very own 2015 Genesis today at Massey Hyundai. Don't forget we are a dealership conveniently located for Chambersburg and Winchester residents, so come see us at the dealership today to get started!