The 2015 Hyundai Genesis vs. the 2015 Cadillac CTS: Chambersburg and Winchester Drivers Decide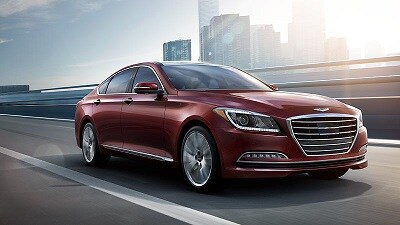 For drivers in the Chambersburg, PA and Winchester, VA areas who are trying to decide between the 2015 Hyundai Genesis vs. the 2015 Cadillac CTS, two newcomers in the luxury sedan scene, it can be difficult to find reliable information to help guide your important decision. To that end, we at Massey Hyundai have compiled this guide to help you choose the right luxury sedan for your budgetary and automotive needs. Read on to learn more about which one is right for you!
The 2015 Hyundai Genesis
For Chambersburg and Winchester drivers who want all the luxury and power of an innovative sedan without the associated costs, the 2015 Hyundai Genesis provides the best value for your hard-earned money. The new Genesis sports outstanding quality and a smooth ride, a comfortable interior with plenty of space to stretch your legs, safety and crash test scores that are second-to-none, and superb warranty coverage to give you peace of mind for the long haul. Here's a small sample of the kind of luxury and power you will get with every Genesis vehicle:
8-speed Shiftable Automatic transmission with a powerful V6 engine
A variety of luxurious and powerful colors from which to choose
Standard features like remote keyless power door locks and leather trims
The 2015 Cadillac CTS
The 2015 Cadillac CTS, on the other hand, is more in line-price-wise-with what you would expect in a luxury vehicle. It's a classic Cadillac, both inside and out, and it's definitely no slouch. However, given its much higher price point, Chambersburg and Winchester shoppers are probably wondering why they should choose the Cadillac over the Hyundai, and what they will be getting for the extra dollars they spend on the CTS. The answer is simple-you are paying extra for a brand name. That's it. The Cadillac is no more powerful or well-featured than its Hyundai counterpart. All those extra dollars go straight to the brand name and nothing more.
Choosing the Right Luxury Sedan
Ultimately, choosing the right luxury sedan for your needs involves taking into account what it is that you are looking for out of your new car. If you want a great vehicle that combines affordability with top-notch luxury, then the 2015 Hyundai Genesis is the right sedan for you. As an added bonus, Chambersburg and Winchester buyers won't have to pay extra for a brand name.
Visit Us Today!
Ready to get your hands on the wheel of your very own 2015 Hyundai Genesis? Come see us today at Massey Hyundai, and we will put you in the driver's seat of a one-of-a-kind 2015 Genesis. Get ready to drive in style and impress your friends - all without burning a hole in your wallet. We hope to see our Chambersburg and Winchester customers soon!