The 2015 Hyundai Genesis vs. the 2015 Lexus GS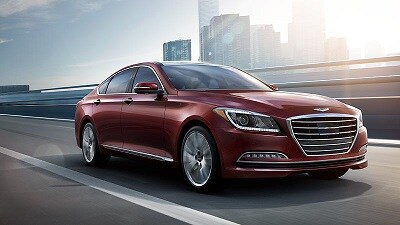 If you're a driver in the Chambersburg, PA or Winchester, VA areas who is on the market for a new luxury vehicle and you are trying to decide between the 2015 Hyundai Genesis vs. the 2015 Lexus GS, then you are absolutely going to want to read this special report we have exclusively compiled just for you. We are going to take a close look at both of these new luxury sedans, but ultimately we think you will agree with us when we say that the 2015 Genesis is a fantastic value that comes loaded with amazing standard features. Let's take a look now!
The 2015 Hyundai Genesis
The all-new 2015 Hyundai Genesis is the perfect balance between affordability and luxury. Unlike its competitor, Chambersburg and Winchester shoppers will be pleased to know the Lexus GS, the 2015 Genesis is priced at nearly $10,000 below the baseline Lexus model. But even though you are saving a lot of money, you won't have to skimp on creature comforts or performance with the new Genesis. In addition to its powerful V6 engine, you also get an incredibly smooth ride (thanks to top-of-the-line suspension), an interior with plenty of legroom, some of the best safety and crash test scores on the market today, and an outstanding warranty that will give you peace of mind for years to come. All in all, the new Genesis is a great choice and comes highly recommended.
The 2015 Lexus GS
The Lexus GS, on the other hand, is far more expensive. It's exactly what you would expect to get in a Lexus: it looks like a Lexus, drives like a Lexus, and maintains all those traditional trappings of luxury you might expect in a name-brand car like this one. However, what exactly are you paying that extra $10,000 for, anyway? What are Chambersburg and Winchester customers getting for the extra money they are going to spend on this vehicle? The answer unfortunately is simple: Not much at all. You won't get a stronger engine or a more impressive interior. Instead, you are spending that extra money on a name, and nothing more. With the 2015 Genesis, you are getting real value. With the Lexus, you are purchasing a name.
Visit Massey Hyundai Today to Test-Drive the New Genesis!
So, we know that the 2015 Genesis can talk the talk, but can it walk the walk? The answer is a resounding YES. To see for yourself the kind of value you'll get when you purchase your very own Genesis, come visit us today at Massey Hyundai to get in the driver's seat of your soon-to-be Genesis. Take it for a test-drive or two around the block, and you are bound to fall in love. We hope to see our Chambersburg and Winchester customers soon!