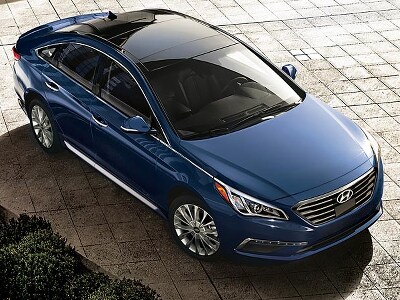 For drivers in the Chambersburg, PA and Winchester, VA areas who are trying to decide between the 2015 Hyundai Sonata and the 2015 Ford Fusion, we have compiled a special report that will help you to clarify the differences between them and make an informed decision as to which one is best for your unique circumstances and driving needs. Let's dive deeply now into the technical specifications and standard features of each of these high-end sedans to determine which one is optimal for you.
2015 Hyundai Sonata
The 2015 Hyundai Sonata has received an "A" rating by Edmunds, and for good reason. This high-performing sedan is loaded with plenty of excellent standard features and a host of phenomenal optional ones. Given its price point, these standard features represent a substantial bargain in the marketplace. The new Sonata also incorporates an interior design that gives you plenty of legroom and a smooth, quiet ride. Combined with excellent engineering and plenty of tech, the 2015 Hyundai Sonata is a sedan to be reckoned with, and it receives our highest recommendation. Drivers in Winchester, VA, Chambersburg, PA, and everywhere in between will find a lot to love in this car!
2015 Ford Fusion
The 2015 Ford Fusion, on the other hand, takes Ford's venerable line of Fusion sedans and? well, it doesn't do very much at all. It comes with all of Ford's tired technologies, including the SYNC system. The Fusion is also substantially more expensive than its Hyundai counterpart, and it lacks the intuitiveness of the Sonata and comparable sedans. For this reason, we don't recommend the Ford Fusion, as its price and available features cause it to lag behind its competitors.
Picking the Right Sedan for You
Ultimately, picking the right sedan for you and your driving needs is the top priority. However, based on a cursory analysis of the specifications and facts of each of these competing sedans, we have to say that there truly is no contest: the 2015 Sonata is an ideal vehicle for drivers who are looking for a host of amazing standard features that perfectly balances them with the need for affordable pricing. We highly recommend the 2015 Hyundai Sonata over the 2015 Ford Fusion.
Take a Test Drive at Massey Hyundai  
Ready to take the 2015 Hyundai Sonata for a test drive near Winchester, VA and Chambersburg, PA? Visit our dealership and we'll show you everything the sonata has to offer.