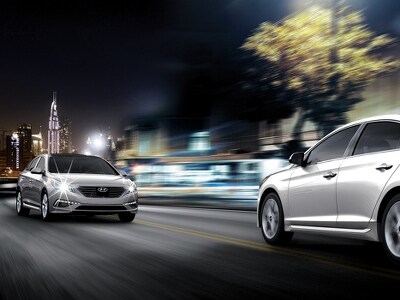 Are you a driver in the Chambersburg, PA or Winchester, VA areas who is on the market for a new sedan, specifically the
2015 Hyundai Sonata
vs. the 2015 Honda Accord? If so, you're definitely going to want to read this special report. In it, we're going to take a look at the technical specs and standard features that each of these new sedans comes with so you can decide which one is right for your unique automotive needs. Read on to learn more!
2015 Hyundai Sonata
For Winchester, VA drivers who are considering the 2015 Hyundai Sonata, you'll be glad to know that this sedan brings a lot to the table. In addition to having an enormous number of standard and available features, the new Sonata has a comfortable interior with plenty of room to stretch your legs on those long hauls.
On top of all that, The 2015 sonata SE comes with a modern and efficient inline 4-cylinder engine that is capable of producing 185 hp and 178 lb-ft of torque, all while achieving an impressive fuel economy of 25 mpg in the city and 37 mpg on the highway. The Sonata is definitely an outstanding choice for Chambersburg, PA drivers who are looking to balance comfort, affordability, performance, and efficiency, all in one stylish new package. We highly recommend taking it for a test drive today!
2015 Honda Accord
The new Honda Accord, on the other hand, just doesn't really stack up to the new Sonata. This is true in terms of features but also in terms of price: a new 2015 Sonata starts at nearly $1,000 less than a new 2015 Accord.
To make a long story short, the new Accord definitely has a few redeeming qualities - such as a decent technology package - but it falls short in attention to detail and comfort. We do not recommend the 2015 Honda Accord for drivers in the Chambersburg and Winchester areas.
Visit Massey Hyundai Today!
The best way to see which of these sedans is right for your driving needs is to come down to Massey Hyundai in Hagerstown, MD today to get your hands on the wheel of a new 2015 Hyundai Sonata. We guarantee that after just a few minutes of taking this polished sedan for a test drive that it will be love at first sight.