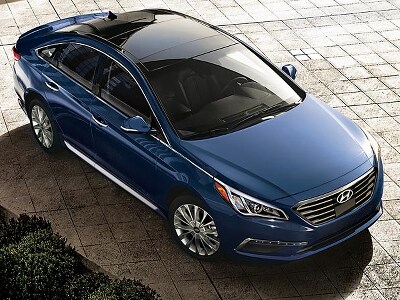 For drivers in the Chambersburg, PA and Winchester, VA areas, choosing between the
2015 Hyundai Sonata
and the 2015 Toyota Camry may seem like a tough decision. After all, they are both next-generation sedans that bring some new automotive technologies into the mix, and they're both priced like mid-end sedans. The truth of the matter, though, is that these sedans are in fact worlds apart. Let's take a closer look to give you a better idea as to whether the Sonata or the Camry is the right vehicle for your unique automotive needs.
2015 Hyundai Sonata
The 2015 Hyundai Sonata is one of the best new sedans on the market this year. It features a roomy interior that gives you plenty of room to stretch your legs, and plenty of fantastic features. Additionally, its inline 4-cylinder engine is capable of 185 hp and 178 lb-ft of torque, all while merely sipping gas. In fact, the 2015 Sonata SE achieves an impressive 37 mpg on the highway and 25 mpg in the city. If you are in the market for a new sedan that is capable of getting you from point A to point B as comfortably, efficiently, and stylishly as possible, then you're definitely going to want to check out the Hyundai Sonata.
2015 Toyota Camry
The 2015 Toyota Camry is another contender in the mid-level sedan market space this year. While it's by no means a poor choice, it still doesn't hold a candle to the new Sonata. Not only does the Camry cost more than the Sonata, but it also lacks behind in terms of fuel economy, mustering 35 mpg highway. In short, it's not a bad choice for many Chambersburg drivers, but the 2015 sonata is both better and more affordable. Why settle for less? 
Test Drive the New Sonata Today at Massey Hyundai!
Ready to get your hands on the new Sonata near Winchester, VA or Chambersburg, PA? Come to Massey Hyundai in Hagerstown, MD! We'll get you in the driver's seat of a brand new 2015 Hyundai Sonata so you can see for yourself just how superior it is to its competitors.