The 2015 Hyundai Equus is the Epitome of Luxury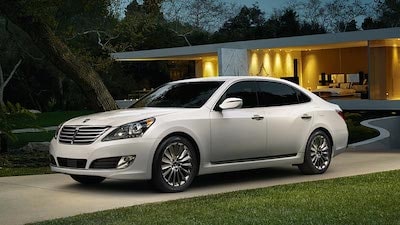 Available now at Massey Hyundai in Hagerstown, MD, the
2015 Hyundai Equus
is one of the most luxurious cars on the market. A luxury sedan that is as sophisticated and comfortable as it is powerful and full of verve, the Equus is a must-see for Winchester, VA drivers shopping for their next sedan. By extending the boundaries of what luxury can be with concierge service and a long list of features that come standard, the 2015 Equus is outdoing the competition. It also drives like a dream.
Concierge Service
With the driver's convenience in mind, the 2015 Hyundai Equus comes with Concierge Service, which is bringing a new meaning to the word "luxury" and turning what used to be the dullest and most inconvenient aspect of owning a car into a breeze. With "At Your Service," owners have the service center come to them for their vehicle's regularly scheduled maintenance and vehicle service - all complimentary. And in the meantime, while your Equus is being serviced, you're handed the keys to another vehicle on loan until the job is finished. But it doesn't have to end there - with "Your Time, Your Place," you can start to enjoy the car's luxury even before you've bought it with the test drive coming to you, whether you're at home or at the office. Suffice to say that Winchester drivers will find a lot to love about this service.
Spacious and Powerful
The Equus is luxurious inside and out. And with 126 cubic feet of interior space, it's spacious and comfortable, whether you're the driver or in the back seat. Powered by a 5.0L V8 engine paired with an eight-speed automatic transmission, the 2015 Equus offers an astonishingly smooth ride with handling so responsive it performs more like a sports sedan. And delivering 429 hp, it produces more horsepower than many other sedans in its class.
Features to Enhance the Driving Experience
The 2015 Hyundai Equus has a long list of driving, safety, and tech features that make the experience of driving and riding in one just that much better. Some of the standard features that Hagerstown drivers will find in the new Equus include:
Power rear sunshade
Blind Spot Detection (BSD)
Rear Cross-Traffic Alert
Lane Departure Warning (LDW)
Heated steering wheel
And more!
Try the 2015 Equus at Massey Hyundai
With convenience and luxury every step of the way, the 2015 Hyundai Equus has sophisticated elements at every turn, and we look forward to showing it to drivers in the Winchester, VA area. Visit our dealership in Hagerstown, MD to learn more about the Hyundai Equus and let yourself enjoy all the luxury it has to offer.