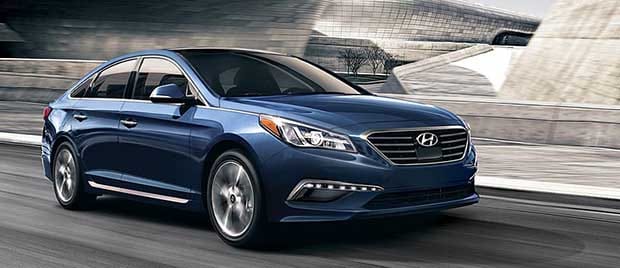 2016 Hyundai Sonata vs. 2016 Honda Accord
Are you looking for a midsized sedan today? You might be trying to choose between the 2016 Hyundai Sonata or the 2016 Honda Accord. Which one of these popular vehicles is right for you and your family? At Massey Hyundai, we're pleased to present this comparison guide to both vehicles.
Features
The 2016 Hyundai Sonata has plenty of amazing features that you'll love. Inside, the Hyundai Blue Link system provides you with lots of technology to keep you connected and on the right track. The Blue Link system comes with turn-by-turn destination guidance, which simply isn't available on the 2016 Honda Accord. The Blue Link system also comes with hands-free calling, which allows you to place phone calls over the Sonata's telephony system via voice commands, without ever taking your hands off the wheel. This is another feature the Accord just can't boast.
Outside, the Sonata features a hands-free smart trunk. This automatic trunk opens when it senses the Proximity Key three feet behind it for more than three seconds. This makes it easier to load and unload your gear without having to fumble with a trunk, or even with a key fob! This is one feature that the Honda Accord just doesn't have. You'll also get rear side manual sunshades, which are crucial for keeping your passengers comfortable on warm or sunny days--while it's a low-tech touch, it's just one example of the thoughtful features the Sonata is stuffed full of that the Accord simply doesn't have.
Space
The 2016 Hyundai Sonata features an incredible 122.4 cubic feet of space total. You'll get 16.3 cubic feet of cargo space for storing your gear, as well as more hip room, leg room, and head room than the 2016 Honda Accord. The Hyundai Sonata is so impressively spacious that even though its exterior is classified as a midsize sedan, the interior is actually classified as a large-size interior! The Accord only has a measly 116.3 cubic feet of interior space--that's over 8 fewer feet than the Sonata. It also only provides 15.5 cubic feet of cargo space for your gear or your shopping. If you're looking for a spacious ride, your pick is definitely the class-leading 2016 Hyundai Sonata.
Get the Sonata Today
Are you ready to test-drive the 3016 Hyundai Sonata? Massey Hyundai can provide! Just call us today at (301) 739-6756 or come see us at 1706 Massey Blvd, Hagerstown.