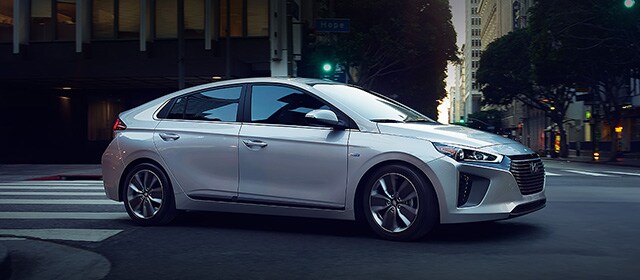 The All-New 2017 Hyundai Ioniq
Are you looking for the most eco-friendly sedan with the most advanced technology possible for your family? The Hyundai Ioniq is the answer to your dreams. This hybrid and electric sedan is made for a new generation, with three fuel-efficient powertrains and an eco-friendly suite of materials. Check it out today from Massey Hyundai.
New Clean Energy Powertrains
The new Hyundai Ioniq is a unique sedan with three eco-friendly and fuel-efficient choices. The electric powertrain lets you charge your car from home or work without stopping for gas, using an EV powertrain and brake regeneration control paddles to save you energy. The hybrid powertrain uses a combination of electric power and gasoline to save on fuel with a hybrid generator powertrain and a sport mode select option for more spirited driving. Finally the plug-in hybrid provides the ability to switch between electric power and gas with an 8.9 kWh battery system. The Ioniq uses Hyundai's Blue Drive strategy for efficient vehicles, with lithium-ion batteries and gasoline injection systems that use less fuel for better efficiency and lower emissions without sacrificing power.
Aerodynamic Design
The Hyundai Ioniq integrates several active and passive aerodynamic features into its modern and sophisticated design. The active aero front grille closes to reduce drag at lower RPMs and opens to cool the engine efficiently at higher RPMs, while the rear spoiler reduces turbulence for a smoother and more controlled drive. The wheel air curtains help make sure your tires move as fast as you need them to, while the smooth underbody cover prevents air from rushing up into the engine and powertrain and reducing the speed of your vehicle.
Advanced Materials
The chassis of the Hyundai Ioniq is built out of advanced high-strength steel and aluminum for a lightweight body that enhances performance even as the rigid chassis provides better control and safety from crashes. Inside and outside, Hyundai is using eco-conscious and sustainable materials. The bio-fabrics used in the upholstery are biodegradable, while the recycled plastics used for the carpeting and door trim cut down on plastic waste. Innovative materials made from sugar cane and volcanic stone reduce the weight of your Ioniq even further while using renewable resources.
Get the Ioniq
The Hyundai Ioniq is now available at Massey Hyundai  Hagerstown.  For more information on the Hyundai Ioniq or to test-drive more fine Hyundai vehicles, call us today at (301) 739-6756 or come see us at 1706 Massey Boulevard in Hagerstown.