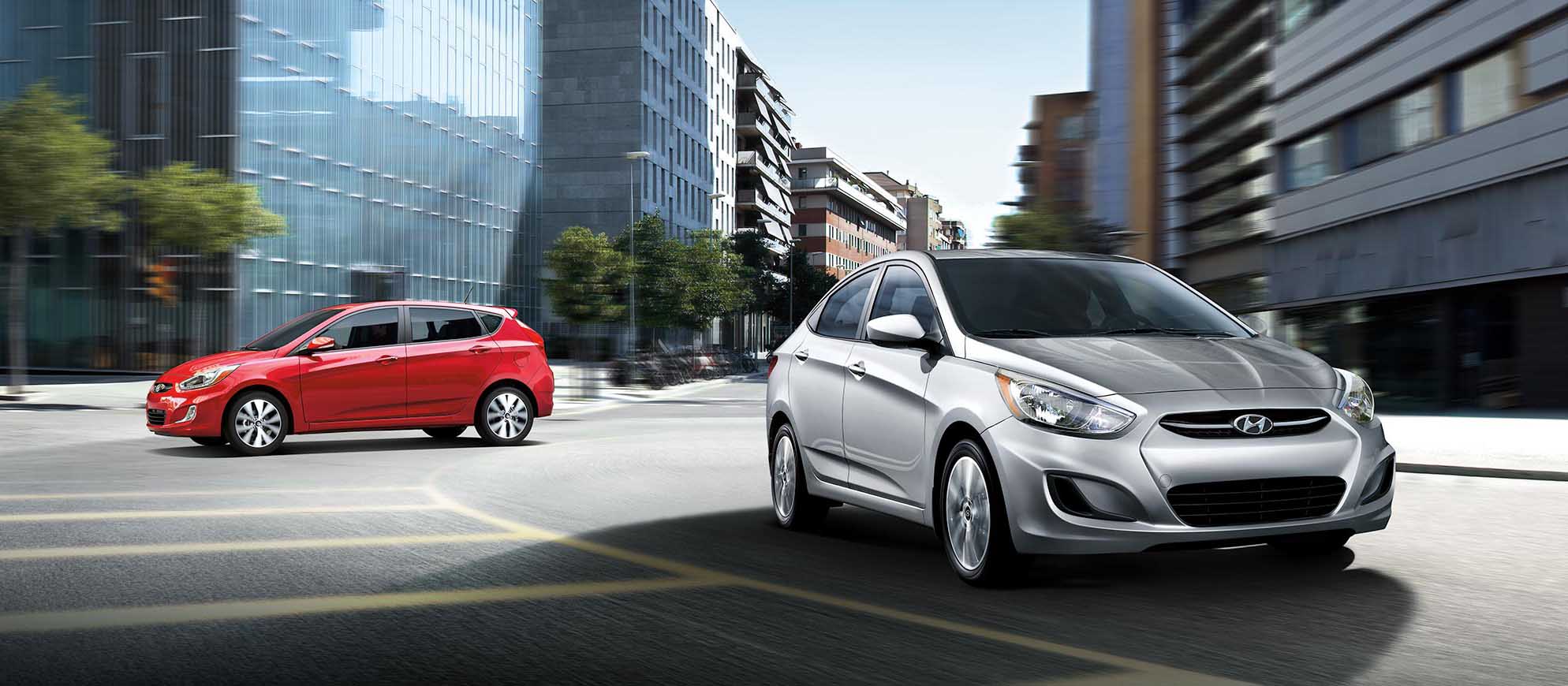 Whether you crave fuel efficiency so that you can tackle your daily commute with peace of mind or need a smaller car to maneuver city streets, the subcompact sedan segment is an excellent place to look. Options within this class provide an affordable way for you to get around Hagerstown, and both the 2017 Hyundai Accent and the 2017 Nissan Versa deserve your attention. However, the former will serve you better in terms of performance and storage space, but read on to pick a winner for yourself.
Performance
When you want a bit more pep when you hit the roads of Winchester, you'd be better served behind the wheel of the 2017 Hyundai Accent. That's because this small sedan runs on a 1.6L four-cylinder engine mated to either a six-speed manual or a six-speed automatic transmission, a setup which boasts 137 hp and 123 lb-ft of torque delivered to the front wheels. The 2017 Nissan Versa also has a 1.6L four-cylinder powertrain under the hood, but its output is meager in comparison with the Accent, and the transmission options are far more limiting. On the Versa, you can expect 109 hp and 107 lb-ft of torque, sent to the front wheels via a five-speed manual transmission as standard and a four-speed automatic transmission as an option. A continuously variable transmission is also available, until later in the lineup. As such, the 2017 Hyundai Accent is immediately the more appealing choice if you want to zip around the streets.
Cargo Space
Don't let the 2017 Hyundai Accent's classification as a subcompact car fool you-this vehicle allows you to pack up all of your gear with ease. That's because it has 21 cubic feet dedicated to storage when all the seats are occupied, and a 60/40-split folding rear seat, allowing you to customize your cabin. With this bench down, you'll have 47.5 cubic feet at your disposal. The 2017 Nissan Versa, on the other hand, offers a measly 14.9 cubic feet behind the second row, and only upper trims have a 60/40-split folding rear seat. Wouldn't you rather go with the vehicle that promises more space to store your gear, and proves flexible across the entire lineup?
Visit Massey Hyundai for the 2017 Hyundai Accent
Do you believe the 2017 Hyundai Accent is the better choice over the 2017 Nissan Versa? Whether you need more convincing or are ready to take this nifty subcompact car out for a test drive, the team at Massey Hyundai is here to help. Get in touch to arrange your visit, and we can answer any questions you may have before you come by!