The Massey Hyundai 25th Anniversary Celebration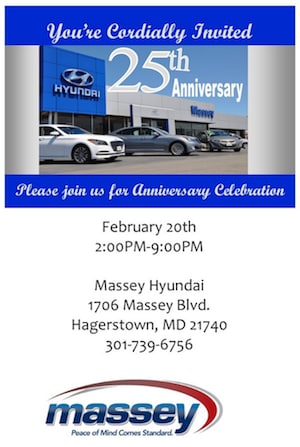 For 25 years, the team at Massey Hyundai has served drivers in Winchester, VA, Chambersburg, PA, and the surrounding communities from their dealership in Hagerstown, MD, and now they're giving back. Massey Hyundai is celebrating its 25th birthday on Friday, February 25, 2015, and all are welcome!
How is Massey Hyundai Celebrating?
In addition to offering a festive mood and the friendly atmosphere that visitors have come to expect, there will be refreshments and the chance for visitors to win great prizes. Some of the prizes that will be given away include:
Free oil changes
Free full detailing
$25 gift cards
All you have to do to get a chance to win is visit the dealership, enjoy the atmosphere, and enter the prize raffle.
What Time Can I Come to Massey Hyundai?
We encourage both past customers and drivers from Winchester, Chambersburg, and the surrounding communities to come celebrate with us on our dealership's 25th anniversary. Who knows? With the full lineup of Hyundai vehicles, pre-owned vehicles from a variety of automakers, and capable service and parts departments, you might see something you'll love.